Fraternite 202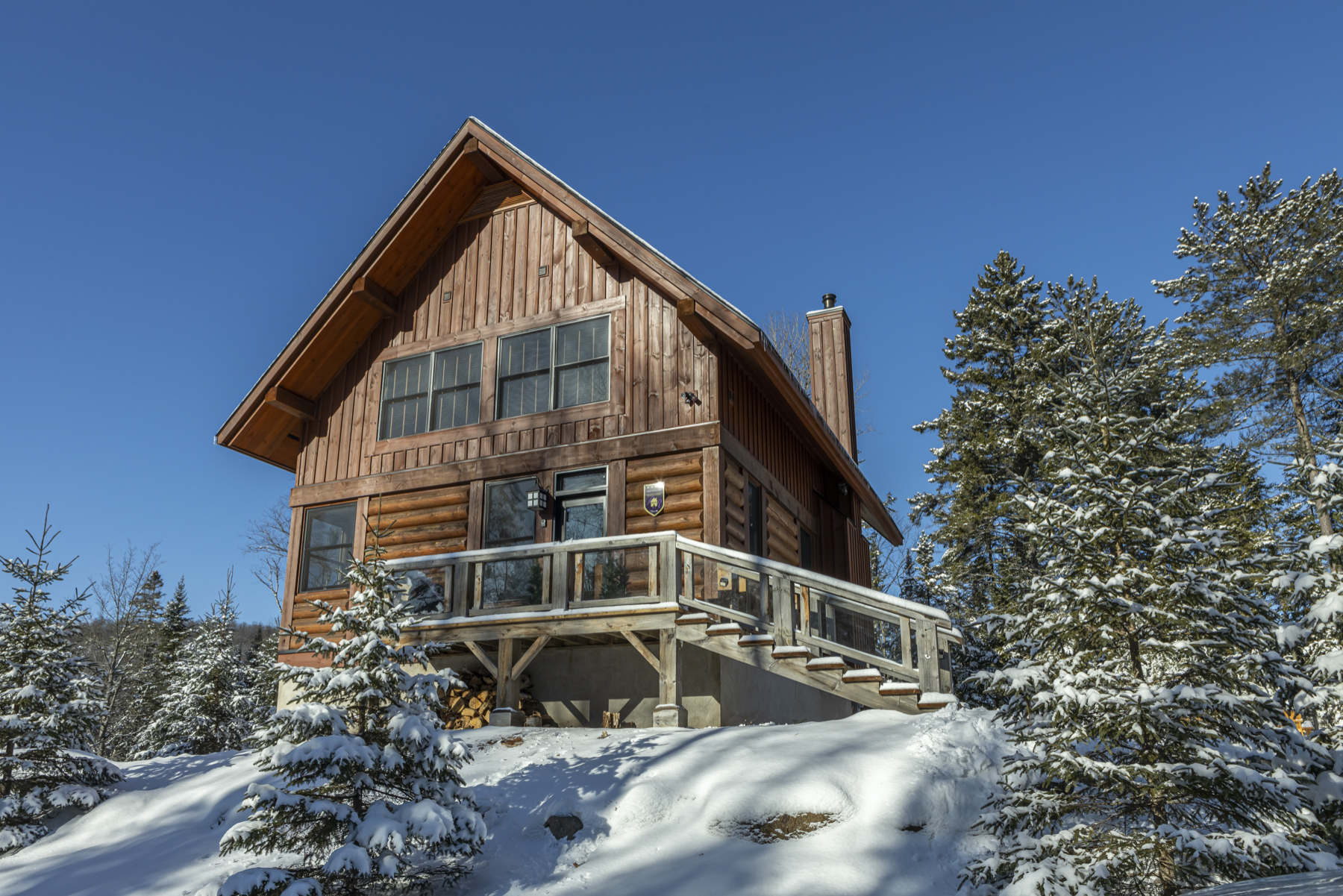 Description:
Luxury chalet in the woods with 4 bedrooms, 2 bathrooms with shower, 1 ensuite bathroom with shower and bath and 1 half bathroom.
Cleaning done by professional using sanitation rules from government. We use fresh linen and towels cleaned by an industrial cleaner offsite with hospital grade process.
Spa and terrace.
Washer and dryer.
Wood fire in the living room.
High-speed internet with wifi by cable (120M speed) - no risk of slow connection
Flat screen TV with cable Tv (including sport and children channels)
Free equipment for infant: folding bed, high chair, plastic ustensils
Walking distance from lac-supérieur (500m, 5 minutes), with access to a beach, pool, tennis, meeting room included with your booking, Liquor store and gourmet grocery store walking distance,Gourmet restaurant and 10 minutes from Tremblant north face for ski!
Included with your reservation is the access to the private resort Club de la Pointe for resident and owners only located 600m from the chalet. You will have free access to the outdoor pool, 2 tennis courts, a beach and access to Lac-Superieur, a kid play room, a training room and a massotherapist.
Amenities
Fireplace
Heating
Iron board
Hair dryer
Dryer
Shampoo
Washer
Hangers
Smoke detector
Co detector
Fire extinguisher
First aid kit
Desk
Entertainment
Internet
Kitchen
Kitchen
Dishes utensils
Refrigerator
Toaster
Microwave
Dishwasher
Freezer
Oven
Spices
Coffee maker
Highchair
Raclette
Stove
Location
Pets
Pool and Wellness
Sports
Bicycle
Fishing
Cycling
Mountain biking
Kayak canoe
Snowboarding
Skiing
Swimming
Suitability
Minimum age limit
Car necessary
Check-in start time:
16:00hrs
Check-in end time:
24:00hrs
Check-out by:
11:00hrs
Location info:
Chalet Fraternite in Lac-Superieur Tremblant is situated in Lac-Superieur and offers water sports facilities and a tennis court. The accommodation is 11.2 miles from Mont-Tremblant, and guests benefit from private parking available on site and free WiFi.
Location
General terms
By submitting this reservation, I, the reservation owner agree to abide by the below terms and hereby swear that the information provided above is true:
1. I agree to and will remit all fees as described on this page.
2. The Landlord have the right to inspect the premises without prior notice at any time to enforce the terms of this agreement. Should the Tenants violate any of the terms of this agreement, the rental period shall be terminated immediately. The Tenants waive all rights to process if they fail to vacate the premises upon termination of the rental period. The Tenants shall vacate the premises at the expiration time and date of this agreement.
3. The Tenants shall maintain the premises in a good, clean, and ready to rent condition after normal cleaning, and use the premises only in a careful and lawful manner. The tenants shall leave the premises in a ready to rent condition at the expiration of the rental agreement, defined by the Landlord as being immediately habitable with a standard cleaning by the next tenants. Tenants shall pay for maintenance and repairs should the premises be left in a lesser condition. The tenants agree that the Landlord shall deduct costs of said services from the security deposit prior to refund if tenants cause damage to the premises or its furnishings.
4. The Tenants shall dispose of all waste material generated during the rental period in a lawful manner
5. The Tenants shall pay for any damage done to the premises over and above normal wear and tear.
6. The Tenants shall not sublet the property.
7. The Tenants shall behave in a civilized manner and shall be good neighbors respecting the rights of the surrounding property owners. The Tenants shall not create noise or disturbances likely to disturb or annoy the surrounding property owners. No noise is authorized between 10pm and 7am inside and outside the property. Creating a disturbance of the above nature shall be grounds for immediate termination of this agreement and Tenants shall then immediately vacate the premises. If complaints are received from neighbors and/or police, the tenant will refund only 50% of the damage protection deposit.
8. The Tenants and Tenants Guests shall hereby indemnify and hold harmless the Landlord against any and all claims of personal injury or property damage or loss arising from use of the premises regardless of the nature of the accident, injury or loss. Tenants expressly recognize that any insurance for property damage or loss which the Landlord may maintain on the property does not cover the personal property of Tenants, and that Tenants should purchase their own insurance for Tenants and Guests if such coverage is desired.
9. Tenants agree to pay all reasonable costs, attorney fees and expenses that shall be made or incurred by Landlord enforcing this agreement.
10. Tenants expressly acknowledge and agree that this Agreement is for transient occupancy of the Property, and that Tenants do not intend to make the property a residence or household.
11. There may occasionally be power outages that are beyond our control. We report outages as each occurs. No refunds or compensation will be given for any outages.
12. There shall be no refunds of rents due to shortened stays or ruined expectations because of weather conditions.
13. There shall be no refunds of rents because of shortened stays or ruined expectations due to work and family emergencies or other commitments.
14. It is the tenant responsibility to learn about safety precautions, warning signs of conditions, and safety procedures concerning swimming in or being around water, animals, machinery and other potentially hazardous elements.
15. Tenant agrees that Fireworks and other hazardous materials shall not be used in or around the property.
16. Tenant shall use the property for legal purposes only and other use, such as but not limited to, illegal drug use, abuse of any person, harboring fugitives, etc. ; shall cause termination of this agreement with no refund of rents or deposits.
17. Tenant is advised that there may be no carbon monoxide detector on the property and accepts the risk involved in not having one.
18. Tenant shall see to their own security while in the property by locking doors, windows, garage doors, etc. when it is prudent to do so.
19. Valuable items left behind by tenant will be held for the tenant and every reasonable effort will be made to contact the tenant for return. If items are not claimed for longer than 3 months they shall become the property of the Landlord. The Landlord shall not be help liable for condition of said items.
20. A 10% deposit will be charge to confirm the reservation at the time of booking. The full balance must be paid 30 days before check-in. In case of payment default, the reservation will be automatically cancelled without refund
21. A damage protection deposit can be charged in the 7 days before check-in. This deposit will be refund in the 7 days after check-out according to article 3 and 7 of this policy.
22. Smoking in the apartment and in public areas is prohibited. It is tolerate smoking on the balcony respecting the other neighbors. The use of drugs or marijuana is prohibited in the building. The security deposit will be systematically retained if evidence of indoor tobacco use is found after the departure of the tenant.
Rules
Terms and conditions

We apologize for the extensiveness of our house rules but please understand that they are the result of past unfortunate experiences that we wish to avoid at all costs.
If the number of people exceeds the reservation without notice to the landlord, a fee of $ 70 per person will apply automatically.
To avoid check-in problems and surcharges, please make sure to book for the right number of travelers because the number of people will be checked during your stay.

A damage deposit will be reserved before check-in

Access to the property:

To gain access to check-in instructions we ask for a photo of passport/driver licence, credit card and rental agreement.
Access to the unit is done thru a combination lock, a lockbox or our intendant will welcome you. The instructions to access the property will be sent to you by email and / or text message in the days before your arrival.

Pets are prohibited unless you have special permission. Subject to an automatic surcharge penalty of $ 200 if not honored.

Breakage and damage must be reported to the landlord as soon as possible.

If a hot tub is available, water must be kept clean and foam exempt to avoid surcharge of $ 200.

During the rental period, any damage not attributable to normal wear and tear caused by the tenant to the building, furniture, equipment, accessories or land will be the responsibility of the tenant. In such a case, reasonable expenses equivalent to the cost of repairing or replacing the damaged property will be required.
Cancellation
Bookings cancelled at least 60 days before the start of the stay will receive a 100% refund.
Bookings cancelled at least 30 days before the start of the stay will receive a 50% refund.
Cancellations must be made by 12:00 PM (East Standard Time) on the appropriate day.
Cancellation policy apply in case restrictions due to COVID19 unless the government declare a closure of short term rental in this case a credit for the value of the cancellation fees will be offer.